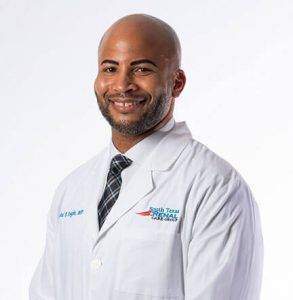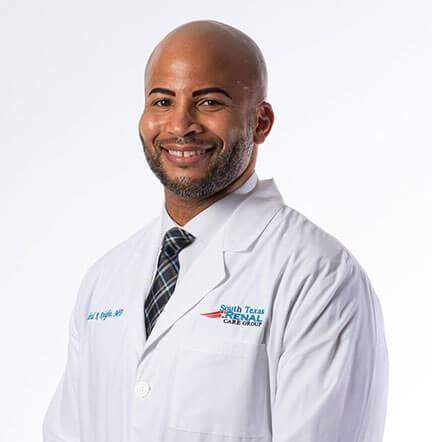 South Texas Renal Care Group celebrates the addition of experienced staff nephrologist, Kendral R. Knight, M.D., to our team of medical talent. Previously serving as a staff nephrologist for the U.S. military, Dr. Knight's wealth of expertise, acute attention to patient needs and almost 12 years practicing medicine across the country and overseas, made him an ideal fit for the medical group.
In his new role, Knight will deliver care for individuals managing a variety of renal diseases and disorders to include hypertension, acute kidney injury, chronic kidney disease, end-stage renal disease and more.
"We believe in serving San Antonio and our South Texas neighbors with the very best in kidney care and Dr. Knight is the epitome of what we deliver—excellence in our practice, passion for our patients and compassion in everything we do," said South Texas Renal Care Group President M. Reza Mizani, M.D., FASN. "We appreciate his service to our country and feel honored to be the first to welcome him to civilian medical care."
Just prior to his new role with South Texas Renal Care Group, Dr. Knight served in the U.S. Army as a staff nephrologist at San Antonio Military Medical Center, providing comprehensive care to more than 1,000 patients per year. He also guided future nephrologists as an instructor on topics such as chronic kidney disease, hypertension, acute kidney injury and more, instructing nephrology fellows, medicine residents and other medical students.
"There are so many great minds at South Texas Renal Care Group, offering countless years of expertise in successfully treating patients with the most serious kidney ailments. While that excellence was a key factor in my decision to pursue their medical group, the most important attribute that drew me to them was their dedication to patients," said Dr. Knight. "I look forward to learning from this elite group and treating patients with the utmost care and passion. Thank you for welcoming me and my family with such open arms!"
Welcome to the team, Dr. Knight! We are so very proud to have you.