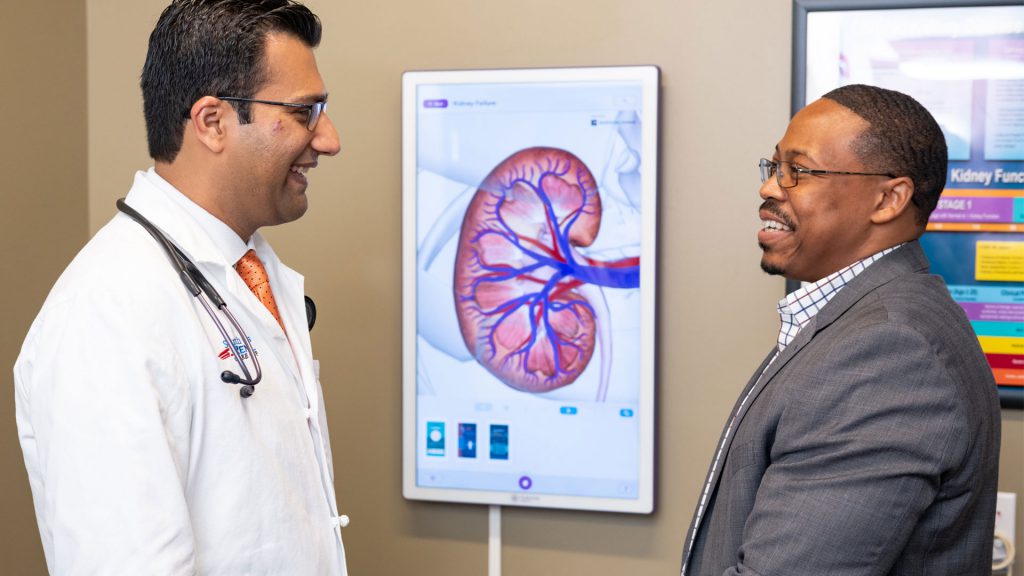 Imagine going to your primary care provider (PCP) for a typical routine check-up. You feel nothing out of the ordinary, but you go because it's an annual medical examination.
But after the check-up, your PCP turns to you and says…
"You need to see a nephrologist."
What does that mean?
It means your PCP is concerned about your kidneys. This doesn't immediately mean you have kidney disease. But your doctor has reason to believe your kidneys might be in danger.
So out of caution, they'll refer you to a nephrologist. Undetected kidney disease can be life-threatening. The earlier it's diagnosed, the better the chances that you'll save your kidneys.
What is a Nephrologist?
A nephrologist is a kidney specialist. They diagnose and treat various kidney diseases. These professionals are specially trained to treat conditions that may directly or indirectly impact the kidneys. The conditions that nephrologists can treat include:
Chronic Kidney diseases
Kidney infections
Abnormal growth in kidneys
Renal artery stenosis and other kidney vascular conditions
Tubulointerstitial kidney diseases
Vasculitis
High blood pressure
Autoimmune conditions
Diabetes
…and so much more.
The primary goal of a nephrologist is to make sure your kidneys won't fail. So your PCP will only refer you to one if they think your kidneys may be in danger. Since kidney failure could be life-threatening, you should follow the advice of your PCP if they refer you to a nephrologist.
5 reasons you're referred to a nephrologist
Here are the 5 different reasons why you might be referred to a nephrologist by your PCP.
Chronic Kidney Disease
When you're diagnosed with Chronic Kidney Disease or CKD, it doesn't necessarily mean you're in a life-threatening situation. CKD comes in different stages. The lower the stage, the more chances that the damage can be reversed.
But CKD sometimes has mild symptoms. Often, people don't even know that they have it. That's dangerous because it means you're unaware that your kidneys are failing to filter your blood. This can cause waste to build up in your body.
So if your PCP discovers CKD in your checkup or lab results, it's best to have it treated immediately. Do it before your symptoms get worse.
Acute Kidney Injury
This refers to sudden kidney damage. It's not like CKD where damage to the kidney happens in stages.
Acute kidney injury can happen when the kidneys go through a shock, such as dehydration, surgery complications, or reduced flow of blood to the kidneys. An infection can also cause acute damage.
Kidney stones
Also known as renal calculi, this is a condition where minerals and salts cause hard deposits to form inside the kidneys. These hard deposits can be aggravated by some medical ailments, medications, supplements, excess weight, or an unhealthy diet.
Removing these stones doesn't always involve surgery. Passing kidney stones can be painful. But this won't result in lasting damage to the kidneys – as long as the stones are discovered early.
Take note that kidney stones can also appear in other places in your urinary tract, like your bladder. If these stones aren't removed, they can lead to CKD.
Kidney infections
Kidney infections usually begin in the urethra and go up the bladder.
If the infection isn't detected when it reaches the bladder, it can go to either one of the kidneys. A kidney infection is more serious than a urinary tract infection. You need to have it treated immediately because the bacteria can spread and destroy your kidneys. Not only that, but it can also affect your bloodstream. When that happens, you'll be in a life-threatening situation.
Conditions that could lead to kidney disease
Sometimes, your PCP will refer you to a nephrologist even if there's nothing wrong with your kidneys. However, this still means your kidneys are in danger. They may be healthy now, but if you don't consult with a nephrologist, there could be further damage.
For instance, if you suffer from diabetes or are struggling with obesity, you could be referred to a kidney specialist. The same is true if you have heart disease or high blood pressure.
Strep throat can also endanger your kidneys. It can cause inflammation in your kidneys if it's not treated immediately.
What happens during a visit to a nephrologist?
Now that you understand why you might need the help of a nephrologist, what happens during your visit?
First of all, the nephrologist will talk to you about your medical history. They will also ask you about your family's medical conditions. After talking to you, they will do a physical exam to see how your kidneys are currently functioning.
Blood tests
Since your kidneys clean the waste from your blood, the nephrologist will first verify this function. They will look at things such as:
Serum creatinine (a byproduct of muscle damage). High levels indicate progressive kidney damage.
Glomerular filtration rate (GFR, which tests the kidneys' ability to filter excess fluid and waste). This indicates the stage of CKD.
Blood urea nitrogen (a waste product after the body breaks down protein). High levels mean the kidneys' function is decreasing.
Urine tests
Analyzing urine reveals the condition of your kidneys. The tests you may take are:
Urinalysis (checks for abnormalities in the urine). This detects infections and bacteria.
24-hour urine test (collects urine for 24 hours). This shows how much urine the kidneys produce and the protein and electrolytes leaked in the urine every day.
Creatinine clearance (compares the creatinine levels in a 24-hour urine sample). This shows the waste the kidneys can filter every minute.
Microalbuminuria (a sensitive dipstick test to detect protein albumin). This is recommended when the standard blood test detects no excess protein levels.
Apart from these tests, it's also possible for the nephrologist to require you to undergo an ultrasound, CT scan, hemodialysis, or biopsy.
Through these tests, the nephrologist can work hand in hand with the PCP and compare their findings to give you a better diagnosis of your condition.